Stay tuned for brand new weekly features!
Lobster Johnson by Mignola
Media for the Monster Master:
Biscuit is going to start posting a weekly art feature. They might be doodles or rough sketches out of his notebooks, or completed pieces he's worked over in photoshop. Sometimes they'll directly relate to the games we're playing, or just be out of left field.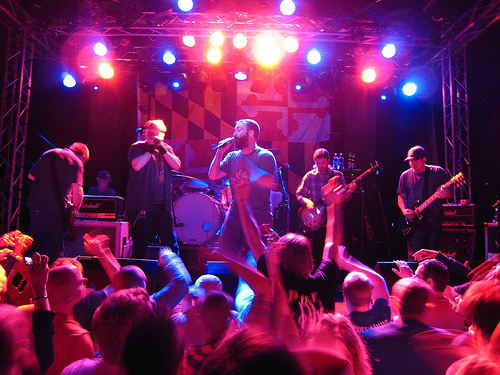 Clutch in concert
Music for the Monster Master:
Duck Sauce is going to post a weekly snippet covering some facet of music. To his own admission this will most likely be the
stoner rock genre
, but who knows, yodeling might make it in here as well. This could include album reviews, industry news, and the like.
Metropolis
Megabytes for the Monster Master:
Americano is always on the cutting edge of the latest tech gadgets, and he is an admitted Apple fan boy. He's always ready to give in his two cents on whatever subject is at the fore of current events too. So his weekly feature will focus on either a rant of some type, or a look at some tidbit of techno wonder. Or maybe both, I'm sure he'll surprise us.
Munchies for the Monster Master:
Rounding out our weekly features here at the Minions' blog will be T-Bone and his wonderful world of culinary arts. He may give us recipes, reviews, tips, and the like. Who knows, but whatever it ends up being, it will center around our great love of both food and drink. So warm up your whisks, pour a frosty brew, and gird your loins.
edit: feature name changes thanks to Duck Sauce!